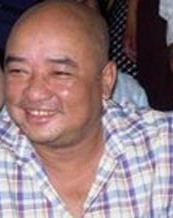 October 14th 2009 saw the first awarding of the PEN/Pinter Prize to the 'unmistakable and passionate poet' Tony Harrison. In a ceremony at the British Library, following his prize lecture, Harrison announced the winner of this second category, Maung Thura. Known more widely as Zargana, Maung Thura is a hugely popular Burmese poet, comedian, film actor and director, as well as a fierce critic of the military government. In November 2008 Zargana was sentenced to 59 years imprisonment, convicted of 'public order offences' and for leading a private relief effort to deliver aid to victims of Cyclone Nargis. Following appeals his term was reduced by 'up to 24 years'. He has therefore to serve the remaining 35 years in prison. Zargana has in the past insisted that even if he is silenced, under-the-table humour will persist in Burma's taxicabs, teashops and dining rooms: "Burmese people love to laugh. But if I can't speak, jokes will still spread. The people will make them up themselves."
Carole Seymour-Jones, chair of English PEN's Writers in Prison committee, collected the prize on Zargana's behalf, paying tribute to the courage of the 'wise fool of Burma' and citing Harold Pinter's active commitment to the Writers in Prison committee, exemplified by his visit to Turkey on behalf of the WiPC with Harold Miller in 1985, where they were escorted by Orhan Pamuk.
Read more English PEN
The Prize. On 17 July 2009, a new literary prize in honour of the late Harold Pinter was announced, to, in Pinter's own words, reward a writer who casts an "unflinching, unswerving" gaze upon the world, and who shows a "fierce intellectual determination … to define the real truth of our lives and our societies". The PEN/Pinter prize will be awarded annually to a creative writer of outstanding literary merit, in any genre, whose body of work "exemplifies the spirit of Harold Pinter through his or her engagement with the times". The winner will receive £1,000, with a further £1,000 to be awarded to an imprisoned writer of conscience of their choice, selected in consultation with English PEN's Writers in Prison Committee.