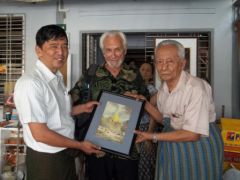 American sculptor Jim McNalis recently met with renowned political prisoner Min Ko Naing in Yangon. "I am certain that Min Ko Naing would prefer to be known as something other than Burma's most famous political prisoner, after Aung San Suu Kyi. He is an artist, composer, poet, journalist, gifted speaker and novelist. " said McNalis.
While in university Min Ko Naing enjoyed doing satirical drawings that were political in nature. Min Ko Naing told McNalis that there are three critical things to surviving prison : 1. Freedom from Fear. 2. Deep belief in your cause. 3. A sense of humor.
Min Ko Naing gave McNalis a tour of his house where every inch of wall is covered with his father's and own paintings. They were full of energy, color, children (nieces and nephews), scenes of music, dancing and joy. Min Ko Naing's father, U Thet Nyunt, is one of Burma's most famous and prolific painters. "At 86 he has not slowed down.
Handsome and youthful at 50, Min Ko Naing must still suffer the effects of torture and mistreatment by his jailers of many years. In spite of that he is cautiously optimistic about the future and like Aung San Suu Kyi, bears no anger or resentment toward the military regime and has no thirst for revenge.
Born Paw Oo Tun, he changed his name during the demonstrations for democracy to Min Ko Naing which means "conqueror of kings". This seems like overstatement for such a modest, self deprecating gentleman who endured imprisonment with great courage and dignity from 1988 through 2004 and then again from 2007 to 2012. He was sentenced to 65 years in 2007 for supporting the rights of the Burmese people but was released in 2012 as part of a general amnesty.
Since his most recent release, Min Ko Naing has reassembled his colleagues and opened an office for the 88 Generation Students. He continues to put his energy into promoting measures that are in the best interest of the people. "After finally meeting this remarkable warrior for peace and democracy", McNalis said,"it is clear that the Burmese people have a formidable and dedicated advocate.