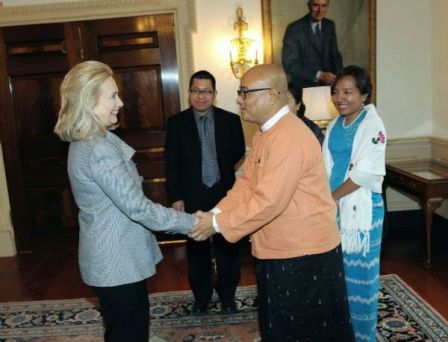 US Secretary of State Hillary Clinton met with three well-known Burmese activists including comedian Zarganar on Thursday in Washtington DC, Clinton greeted the Burmese comedian who was recently freed from prison, as well as National League for Democracy empowerment activist Khin Than Myint, and National Democratic Front Kachin ethnic minority rights activist Daw Bauk Gyar. The Burmese dissidents discussed the issues of political prisoners, women's rights, and ethnic minorities in Burma with senior officials.
"It was great," said an excited Khin Than Myint after her meeting with Clinton. "I told her that we really appreciate her support, especially for democracy, human rights and women rights. I think she is really interested in women's affairs, that is why I encouraged her to promote the status of women in Burma," she said.
Zarganar said, "This is the very start of improvement in our country. We wish it to go forward. It is very important for us," Noting that national reconciliation is vitally important for the people of Burma, Zarganar said that both the Burmese government and the opposition should show good will. Clinton previously met Zarganar in Rangoon in December when he was participating in a civil society roundtable. During his first foreign trip to Thailand, Zarganar said that the lifting of Western sanctions will bring more foreign aid to Burma, but balked when asked if he would formally join the political arena and run for Parliament.
During the military regime under Than Shwe rule, Zarganar was an outspoken critic of the government. Prior to his release, Zarganar was serving a 24-year prison sentence in Myitkyina Prison in Kachin State, northern Burma, for publicly criticizing the slow and ineffective government relief efforts in the wake of Cyclone Nargis in 2008.
2012.02.08 US State - Secretary Clinton Welcomes Burmese Civil Society Delegation