Birmanie, ma prison / The Prison where I live won the Student Prize at his first screening in France, at The Paris International Film Festival on Human Rights (FIFDH). The Jury honored the documentary for "his vitality, his courage and humor in the face of oppression, "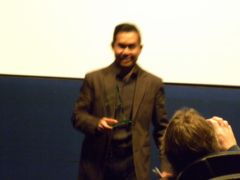 Mr Htin, representative of the Burmese Community in France, received the Prize in the name of the film director, Rex Bloomstein. He made wishes for the freedom of the 2100 political prisoners living in the burmese jails, and specially for Zarganar.

The Paris International Film Festival on Human Rights Prizes
This is a film about two comedians.

Zarganar, is Burma's greatest living comic, Forbidden to proudce shows, and now in prison.

Michael Mittermeier, german comic, equally irreverent and famous for tackling taboo subjects in his comic routines

Two men joined by comedy and separated by repression.
Michael Mitttermeier joined with Rex Bloomstein to make a film about this man who has paid such a price for speaking out against the regime. Together with a small team, they travelled secretly to Burma. They interviewed Zarganar in depth in his flat, showed the cinemas that are prevented from screening his films, the bookstalls not allowed to sell his plays or poetry, and the makeshift TV studio where his fellow comedians rehearse on pma stage that he himself is forbidden to tread.