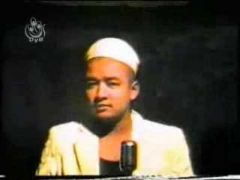 Born 27 January 1961 to a political and intellectual family in Yangon, the well-known writers Kyi Oo and Nan Nyunt Swe. The young boy accompanied his parents on speaking tours where he used to entertain people by giving talks and doing imitations, and earned himself the nickname "Mimic".
He first found success while still in college, performing amateur stage comedy shows at Yangon's universities under his stage name Zarganar (tweezers). In 1986, he formed the Mya Ponnama Anyeint troupe whose shows frequently appeared on television. He quickly became known for his expert ability to concoct double entendres. And his willingness to use them in farcical routines highlighting the failures of the government delighted millions of awe-struck audiences. He got away with a highly popular play, "Beggar," which ridiculed the late dictator Ne Win and his cronies.
Zarganar's contributions to the revival of popularity of anyeint among the younger generations of Burmese cannot be overstated. Anyeint shows are a form of traditional theater combining dance, music and comedy that has come to play a central role in Burmese society—performed at a wide range of secular and religious events, from weddings to pagoda festivals. Before Zarganar came along, the popularity of anyeint shows had been in long decline (especially in urban areas). Zarganar did not invent the art of using puns and double entendres, which had long been part of traditional Burmese humor but in many ways he perfected it in the Burmese language.
''Read more...''
Zarganar since his release (2011/10/12)